Lenny, In his own words:

"My name is Leonard Lenon Singleton and I am currently held at Nottoway Correctional Center in Burkeville, VA…In my case, I pled guilty to six 'unarmed' robberies in the city of Norfolk. I admitted to the detectives what I did from the very beginning. I was extremely happy to be caught because I was tired of being under the influence and literally controlled by my addiction to crack cocaine. Having never been in any 'real' trouble before, I thought being honest would help.

My probation officer, Richard May, according to my court-appointed attorney Jon Babineau, prepared the guidelines as if I had a prior adult record, which I did not have. All of these robberies happened in a 7 day period! Judge William Fain Rutherford said he was not going to follow the guidelines anyway and sentenced me to Two Life Sentences plus One Hundred years! He didn't even explain 'why' as directed by 19.2-298.01 of the code of Virginia which says, 'In any felony case in which the court imposes a sentence which is greater or less than that indicated by the discretionary sentencing guidelines, the court must file a written explanation of such departure.' Is it common for a first-time offender, who was addicted to drugs and alcohol, who did not physically injure anyone, and admitted he was wrong, to be sentenced to spend the remainder of his life in prison? In my 20 years of being incarcerated, I have yet to meet anyone who has been sentenced in the same manner…It appears that I received the most severe sentence that could have been imposed on any criminal for any crime…

I was raised in a good home with good parents. I was a pretty good student and athlete growing up. As a matter of fact, I received an athletic scholarship coming out of high school in 1985. I attended Langston University from August 1985 until May 1990. I graduated with a Bachelor's Degree in Business Administration with a minor in Programming. I entered the military with the hopes of becoming a Naval Officer. Everything was going very well for me, while I was in the Navy, until I made the stupid decision to get high one night at a party. From that point on, my life has never been the same! I was discharged from the Navy for a positive urine test in March of 1993 and locked up for six robberies in seven days in July of 1995. Since being incarcerated, I've enrolled in every single class that each institution has had to offer where substance abuse is concerned. I've signed up for any class that would help me think differently about the direction of my life. I can sincerely say, I did not understand the depths of my addiction to crack cocaine until after my one week crime spree. Every bad thing that has happened in my life happened as a result of my addiction to drugs.

I lived a pretty good life prior to drugs. I never saw myself coming to prison. However, I haven't allowed prison to make me bitter; instead, I've been actively involved in our church where I've had the opportunity to share my life story with so many young people with the hope that they would not return to prison…I've been employed with Virginia Correctional Enterprises for almost 17years now. I've lived in what Nottoway calls its 'Honor Dormitory' for over 15 years as well. In my entire 20 years of being incarcerated, I have NEVER been written up for any infraction. As a matter of fact, my annual reviews all say 'Exemplary Adjustment.'

I'm asking for a second chance to do something positive with my life and to make a difference in someone else's…I've made every effort available to improve myself. Please restore my freedom to be an immediate asset to the community."

Sincerely Yours,

Leonard Lenon Singleton


---
Letter of Recommendation from Assistant Warden Clary: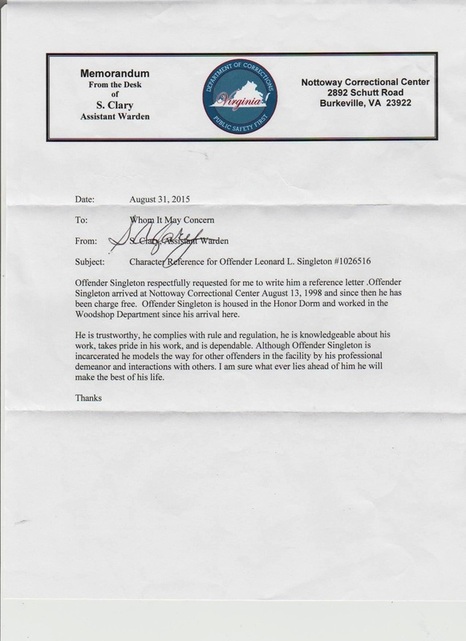 This is a letter of recommendation from Assistant Warden, Clary. He was second in command at Nottoway.

---
Letter of recommendation from Major Jarrell: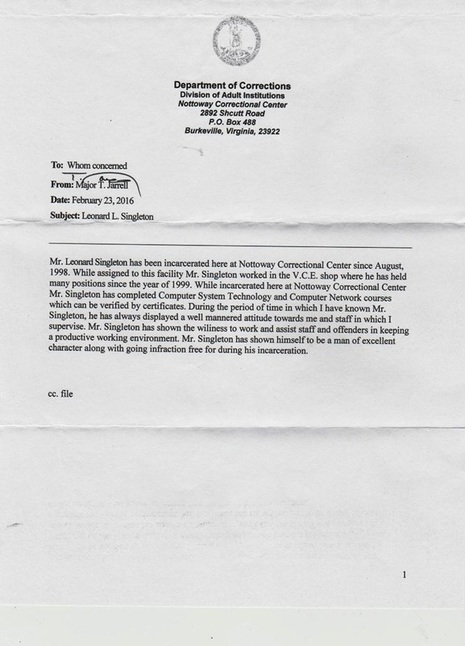 Letter of recommendation from Major Jarrell at Nottoway Correctional Facility.

---
Letter of RECOMMENDATION from the wood shop Manager that Supervises Lenny at Virginia Correctional Enterprises: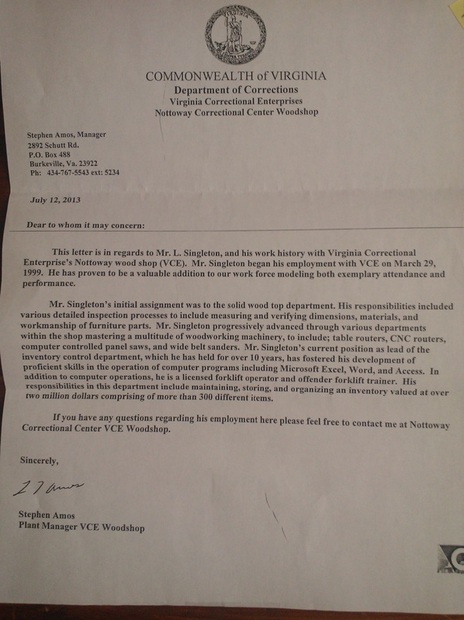 This is a letter of recommendation from the wood shop manager.

This exemplifies some of the qualities Lenny Singleton possesses, and his ability to make a seamless transition back into society.
---
fellow inmate testimonies of lenny Illustrating Lenny's True Character:

To Whom It May Concern,

My name is Redeem A. Amenta and I have known Lenny since 1996. We met through the church at Greensville Correctional Center. What caught my attention about Lenny was his zeal and dedication in his Christian walk. He was one of few who, Bible in arm, would go out onto the rec. yard to evangelize. He went about this task with a serious, yet cheerful, disposition within a negative, oft-time hostile, environment. To me this showed the extent of his commitment to share the gospel for the sole purpose of benefitting others.

In the course of time, at Greensville, I became the Chaplain's Administrative Clerk, assisting in the facilitation of Christian worship services, the editor of the monthly Christian newsletter, and liaison for the Chaplain's Office and various religious groups within the institution. Lenny's insight and counsel was a great help.

We met again at Nottoway Correctional Center. Because of Lenny's biblical knowledge and concern for the orderly facilitation of Christian worship services, when I became a worship leader I recommended Lenny for the same position. Through the years, with the Chaplain's approval, we built an effective teaching ministry in Nottoway Tabernacle Church.

What has always impressed me about Lenny has been his work ethic, his meticulous attention to detail whatever the task, and his overall cleanliness in attire, hygiene, and personal work and living area.

Only few individuals have influenced me during my twenty-plus years of incarceration and Lenny is one of them. Inspite of the injustice of his situation, Lenny has remained positive and has been a positive influence in the lives of many who have crossed his path.

Sincerely,
Redeem Anthony Amenta
___________________________________________
To Whom It May Concern,

My name is Charles M. Walton and I am honored and joyful to write this letter on behalf of my friend, spiritual brother, and mentor, Lenny Singleton.

Since I have known Mr. Singleton he has been a great influence and inspiration in my life. He has guided me through some hard and tough times in my life. Not just that, he has taught me to be independent and responsible. I have worked with Lenny for almost two years and he has shown me everything there is to know about our department (Raw Materials). Not to mention showing me how to successfully drive and operate a fork-lift.

Over these years of incarceration I have seen him grow in Wisdom and Temperance. He has accomplished and exceeds the paradigm of a changed man.

I truly believe that Lenny is remorseful for his actions and deserves a second chance to prove that. Lenny is dedicated to doing right and will do his very best if given the chance. He will prove his worth.

I hope you take this letter into consideration. Thanks for your time.

Respectfully,
Charles N. Walton
___________________________________________
To Whom It May Concern,

Brother Singleton – When I first seen Lenny, he was before the church congregation, delivering a message on "Purpose Driven Life." I'd been to several services where men were delivering insight on God's purpose for mankind, but nothing in my lifetime compared to the delivery that he rendered to the body. It was laid out over several weeks, with many participants given the opportunity to speak on different subjects. After Lenny's summation, I went to him and told him that I believed his message was exactly what the young men, believers and non-believers, needed in their quest to discover purpose. Several people attempted to convey that message of purpose, but you could see and hear the anointing of God on Lenny as he spoke to us. As one of the facilitators for our church services, he oversaw how the services would be conducted. His love for the men attending was shown through his willingness to listen to their concerns. He was always firm with his advice, standing strong on the principles instilled in him by his parents.

I was given the chance to learn more of Lenny's character when I started working in the same area that he was working in. His leadership provided me the inspiration to learn more. His encouragement motivated me to charter in areas unknown. He provided insight and understanding of Microsoft Applications. He displayed a professional work image; never deviating from the values of his experiences. Most importantly, he maintained at the top of his treasures, his faith in God. He extended himself so that God could bless others through him. I am one of the many recipients that God has blessed through Lenny. He is more than just a friend; he is family.

J. DeWitt
___________________________________________
To Whom It May Concern,

The Intent of this reference is to shed light upon the impeccable character of my friend and co-worker Leonard L. Singleton. He has impressed me for years, as a positive role model and leadman in our department at the Nottoway V.C.E. (034) Woodshop Plant. Lenny is educated, self-sufficient, adult man. He has been an example in the Protestant Church and a charge-free inmate for over a decade. It has been a blessing to know Lenny.

Personally, since meeting Lenny in April of 2009, he recommended my promotion to a demanding position, requiring accountability and focused attention to detail. He has taught me numerous computer applications and trained me through completion of the forklift operation and license test, as required by Virginia O.S.H.A. Most of all, knowing Lenny has made me a better man and given me peace. He has patiently schooled me in the art of taking a breath and thinking before I react. I never know what may be weighing on the other guy. So now, I count my blessings and defer from strife. I am grateful to have come to prison because I had the time to restore my sanity, get past resentments, and find my moral compass. Lenny Singleton has been a big part of that process.

We have a good bit in common. Both of us are highly educated, gifted athletes with almost obsessively thorough work ethic. On the other hand, we have both been self-destructive drug addicts. We both did what we did to reach this disgraceful station in life, but I have learned that the quality of a man's character is dictated by his actions after a mistake in the face of adversity. I've also learned in prison, that I have many acquaintances, but very few friends. I'd categorize Lenny Singleton as the latter. Some men become better versions of themselves in here. I could trust the new Mr. Singleton with my last dollar.

It is nothing short of a travesty of justice, that Lenny received double life for desperately grabbing drug money out of convenience store cash registers, almost twenty years ago. I know from experience, that a crack cocaine addict cannot consciously recognize his own altered brain chemistry, until negative consequences stops him. Intelligent, high-functioning addicts are the worst because we refuse to admit we're beaten by a substance. Some unfortunates go further than others to reach bottom and create tragic horror stories. In Lenny's case, no one was hurt and he has since become a sober, respected member of our work force and community.

I think God for my friend and how he has helped to restore my joy for life. Lenny would be an asset to any supervised probation, or recovery community, if granted clemency. Thank you for your consideration in this matter.

Respectfully Yours,
Peter C. Parsons
___________________________________________

To Whom It May Concern,

I am writing this letter on behalf of bro. Lenny Singleton, someone I've known for nearly 16 years and someone I truly see as a brother.

I met bro. Lenny at Greensville Correctional Center where he stood out, for his character really didn't fit in with the normal criminal minded of prison. Wherever you turned in prison you saw fighting, gambling, foolish conversations, card playing, or any number of activities that marked the ignorant and immature but you didn't see bro. Lenny in those areas. When you saw this brother, he was reading the Bible or some book on law or he was speaking to some young inmate politely but firmly urging the wild youngster to grow up, to do something positive with his time, and to not give up on himself.

I've watched this brother remain strong in spirit despite his sentence, despite the chaos that often surrounds us, and despite the challenges he's faced simply striving to remain a good man.

I found kindred spirit in this brother who strove as I strove, who evolved as I evolved, and who remained consistent in his righteous walk; a rare quality in prison since it takes so much strength to be and remain righteous.

I call him brother Lenny because I truly consider him that -- a brother. His smile will light up the darkest room and that's because the person behind it is genuinely a good man. His advice to you will always be sound, he's an example of what a man could be even in prison because he has not allowed incarceration to poison his character nor has he wasted his time complaining and being inactive, no, he's studied, he's grown, he's worked hard and saved money, he's given to others when they didn't have food, hygiene products, but more importantly, he's given his ear and shoulder to those who needed them.

To those who can, I would ask that you do what you can to help this brother because he would definitely be a valuable asset to his family, his community and society in general. He made a mistake, yes, but he has spent nearly 20 years of his life paying for that mistake, please know that he is worthy of your efforts.

Thank you for reading these words and may God bless you for your good works.

Sincerely,

Bro. Khalid Karim

___________________________________________

To Whom It May Concern Jan. 15, 2013

This is a reference letter for Mr. Leonard Singleton. Mr. Singleton and myself became acquaintances in March 2003, while incarcerated. During this time we have developed a mutual bond and respect for one another. Mr. Singleton has proved to be a tremendous asset in my personal, spiritual, and professional life.

Mr. Singleton has used his God given talent and abilities as well as his pleasant demeanor to become a role model and mentor to myself and many others. Mr. Singleton constantly provides advice, direction and encouragement that promotes growth in our lives.

He is a respected leader in our church community. His role as worship leader provided us with knowledge and understanding in our belief and how to apply these beliefs to become better men.

Mr. Singleton's professional life, as an employee of the Virginia Correctional Enterprises Industrial Woodshop, provides me the chance to work with Mr. Singleton for 9 years. I had the privilege of witnessing his excellent work ethic, as well as his ability to demonstrate and teach others the importance of work ethic, especially while incarcerated, which is vital to us becoming productive citizens after our release. Mr. Singleton is highly regarded by staff and fellow workers.

Mr. Singleton hasn't allowed the injustice of the judicial system to birth bitterness; instead he has used this time to demonstrate that even unjust acts can be used to better oneself and to help others. He is consistently sharing his story, especially with the younger inmates, with hope that his misfortune with crack cocaine and its consequences, could perhaps prevent them from traveling the journey that he has taken.

His character displays that of a prototypical inmate. He has truly been an example, and is well respected among fellow inmates and security staff.

My personal opinion is that it is a travesty that he received that exaggerated sentence and that his release is eminent. He has paid a very high price as a pawn in the Virginia Judicial System. Many have agreed that "his time doesn't fit the crime." He will be a tremendous asset to the community as well as a staunch advocate for justice and equality for indigent inmates in the legal system.

Sam Harris
___________________________________________

To Whom It May Concern:

When I first met Singleton, he was a very young fellow. He was enrolled in the ministry class. I don't remember the assignment he was given for it was in 1996, many, many years ago. Everyone else calls him Lenny, but he is also called Singleton by one person, me. He is special in many ways. Back then, we were learning about Jesus Christ in our new Found Freedom in Christ. We enrolled in the ministry class where I first met him. Let me tell you, he was a nervous young pup. Let me share with you all the signs that Singleton is nervous. He begins to sweat as if he has been running a 20 mile race. He had started on a journey and it's in the foundation of faith that I have known my friend Singleton. My words might not line up with the Singleton you used to know but I give you a 17 year window into the life and character of Singleton. He has been a man of character, a man of faith, a man of God.

In all of the years that I have known Singleton, he has never been in trouble of any kind. He is an example to all of us. He has allowed God to transform him from the inside out. Mr. Singleton became a worship leader in our church for many years where he taught us many character lessons and what is our purpose in life. He is so compassionate and caring. He would receive anyone that wanted to talk to him, but not to hear what they wanted to hear. Singleton has a rare spiritual strength to speak the truth into an individual's life where they person feels that even though they don't like what he says sometime, it's the truth. He will not sugar-coat the truth. He speaks the truth which is rare in this environment.

At work he has many skills and a few weaknesses. He has good communication skills. He is well respected by the supervisors as well as the inmate population. I have worked with him for over 8 years and I have seen his dedication to perfection. He is a neat person, very well organized. For all of you that don't know, a big concept is order. The area must be clean and everything has a compartment. Mr. Singleton is in charge of receiving, purchase goods, logging, tracking, and distributing the materials to specialized stations. he is responsible for millions of dollars in inventory and he does an excellent job. He is always open to new ideas as long as it benefits all parties involved. He would be an excellent manager some day. His strengths sometimes act as a weakness. When things get chaotic and things are not orderly, he gets agitated. Also, he loves a good idea but he struggles with the transition. He likes the beginning, he loves the end, but rather not get caught in the middle. I'm telling you, he is built for upper management. When it's time to get something done, he gets right to it. He is always busy at work!

Singleton has studied Spanish as a second language for at least 3 years. He communicates well and is considerate in speaking to all of the Spanish brothers in their own language. He has helped so many of us in our darkest moments. He encourages us on a daily basis. I wish he would have been born into my natural family just to be blessed by his daily presence. If there is anyone out there that can help Singleton in his quest for justice, I plead with you to please join in the justice for Lenny. He deserves to be free. Society will be greatly blessed to have a strong, spiritual and educated man in their midst. In his case, the time does not match the crime. To all who read this letter, please get involved.

With loving regard for my friend,

Sincerely,

M. Roman
___________________________________________

Copyright © 2014 by Justice4Lenny
All rights reserved. No part of this publication may be reproduced, distributed, or transmitted in any form or by any means, including photocopying, recording, or other electronic or mechanical methods, without the prior written permission of the Organization President, except in the case of brief quotations embodied in critical reviews and certain other noncommercial uses permitted by copyright law. For permission requests, write to the president, addressed "Attention: Permissions President," at the following email address:
justice4lenny@gmail.com